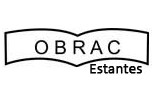 Obrac
Obrac manufactures accessories for wind instruments, including shelves that fit the instruments.

It was born in 1947 under the name Torneria Musical of Salvador Carbo, as a small craft workshop dedicated exclusively to the manufacture of accessories for wind instruments, which was made with simple lathes and was a slow and expensive task. Over time, the development of machinery has allowed to increase the variety of musical accessories, as well as reduce the time to make parts and progressively improve quality, offering customers the best products they can find in the market.

What started as a workshop has become a small industry that increasingly broadens its horizons.
Read more
Show less
Music stand with removable 'O' ring for clarinet. Nickel plated finish.
Available now