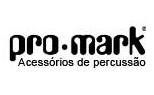 Promark
Promark was founded in 1957 by Herb Brochstein, a professional drummer and owner of a drum shop. Promark has always been a family business, even after the D'Addario group bought it in 2011. It is headquartered in Houston, Texas, USA. It is known for the manufacture of drumsticks, rods, brooms and bobbins.
 
It uses only wood of species not threatened in its production of drumsticks, being the harvest carefully controlled. the wood goes through complex selection processes and the production using the last generation machinery is strictly controlled.

Promark has been chosen by renowned artists such as Neil Peart, the late Elvin Jones, Ringo Starr, Phil Collins, Mike Portnoy, nine-time DCI Concord Blue Devils champion, and many, many more.
Read more
Show less