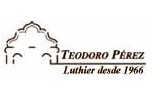 Luthier Teodoro Pérez
Teodoro Pérez was born in the province of Soria, Spain, in 1952. He began his studies in Madrid. When he finished, he began to work in 1966 as a student of José Ramirez III's workshop in Concepcion Jeronima nº2, where he began to make lutes, bandurrias. and mandolins.
Three years later, José Ramirez III decided to send him to the workshop at General Margallo street in Madrid, to work as a true guitars luthier.
It was there that he began learning with great master luthiers who already worked there.
In 1969, after passing the appropriate tests, he was qualified as First Officer. During these years, Teodoro Pérez built many instruments, where he stamped his initials GPM or 13th number.
In this period he had the great honor to meet the masters Andrés Segovia, Narciso Yepes and other famous flamenco concertists and guitarists.
After 26 years in 1991, he decided to set up in his own company, where his instruments began to be famous all over the world.
During these years of work, he sponsored many apprentices of luthier, among whom the children Sergio, Beatriz and the son-in-law Marco A. Tejeda.
Read more
Show less
No results found for your search.