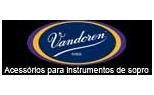 Vandoren
Vandoren was founded in Paris by the clarinetist Eugène Van Doren. The son
Robert studied clarinet at the Paris Conservatory and by 1935, developed the 5RV mouthpiece, which became a standard throughout the world.
Bernard Van Doren joined the company in 1967 and creates the B45 clarinet mouthpiece a year later, develops the classical and jazz range for saxophone and creates state-of-the-art machinery that increases accuracy up to 1/100 of a millimeter and allows production to be increased in ten times.
Since then, Vandoren innovations have never stopped, especially for clarinet and saxophone: mouthpieces, reeds, clamps but also packaging with the Flow Pack, which ensures the preservation of the products from the factory to the musician.
Read more
Show less
Showing
1
-8 of 70 item(s)