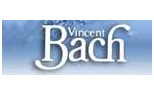 Bach
The founder of the company Vincent Shrotenbach, was born in Vienna in 1890. He initially learned violin, but later switched to the trumpet. He graduated in engineering but made a career as a musician, acting under the stage name Vincent Bach, having made great musical success. He went to the US at the time of World War I

Vincent Bach is known for his trumpets and trombones.

In 1964 Vicent Bach was sold to Selmer, who continues to manufacture trumpets and trombones that continue to incorporate the highest standards of craftsmanship and conform to Vincent's original plans.
Read more
Show less
Excellent heavy oil, perfect for rotor valve pistons and linkages.
Available now
Keep the instrument pistons well lubricated with Bach oil. Used for decades by students and professionals, this oil is long lasting.
The delivery time for this product is 4-5 weeks.