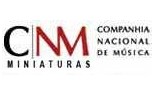 CNM
Created by Nuno Rodrigues in 1993, Companhia Nacional de Música is a publishing company, producer and distributor of phonograms and musical videograms, whose mission is the production, valorization and dissemination of cultural works.

To highlight are the miniatures of musical instruments and the books of music theory by Artur Fão.
Read more
Show less
Available now
This 485GM miniature by CNM is a very realistic replica of a Lisbon Portuguese guitar with its case. It is a great gift idea and an interesting decorative object.  
Available now