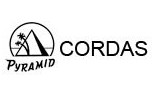 Pyramid
Pyramid strings originate from a company founded in 1850 by Anton Osmanek company "A. Osmanek, Musikinstrumenten- und Stringenfabrik" in Schönbach, near Eger, in what was then the Austro-Hungarian Empire.
In addition to the mail order business of musical instruments and accessories, it began producing silk E strings for violins, the so-called "quintas", from 1858. These strings were the company's main product until 1898.
Today, Pyramid strings and pitch pipes are sold in the German domestic market and in over 100 countries worldwide.
Read more
Show less
Showing
1
-8 of 20 item(s)