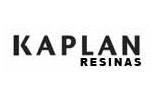 Kaplan
Resins for violin, viola, cello and double bass are applied to the arch bristles. Depending on the instrument, more or less hard resins are applied.
Read more
Show less
Kaplan KCR 7 resin is applied to violin bows. It is a high quality resin.
Available now
Kaplan Artkraft resin in its clear (harder) form comes in a soft flannel pouch and has the advantage of releasing less dust than the  usual resins. It is one of the most popular resins among middle and high school...
Available now