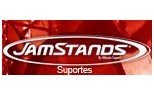 Jamstands
JamStands manufactures various types of stands and shelves. Its main goal is to look for functionality and practical solutions in the various products it manufactures, always with an affordable price commitment.
It is a company belonging to the group Ultimate Support, which is more than 40 years old and exists. The group seeks to create support solutions and music accessories with a spirit of innovation, commitment to quality and customer support.
Read more
Show less
No results found for your search.