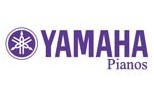 Yamaha Pianos
Yamaha was founded in 1887 by Torakusu Yamaha as a manufacturer of pianos and organs, originally with the name of Nippon Gakki Co., Ltd. in Hamamatsu, Shizuoka in Japan.
The company's origins as a manufacturer of musical instruments continue to be reflected today in the group's logo, a trio of intertwined tuning forks.
Yamaha has grown to become the world's largest manufacturer of musical  instruments.
The tail pianos produced by Yamaha are the highest expression of this manufacturer.

Yamaha is proud to present a full line of grand and upright pianos that reflect Yamaha's continued evolution in acoustics as well as technological advances in manufacturing processes. For vertical pianos, Yamaha manufactures a wide range of models designed to meet the demands and sensitivity of pianists of all levels.
Read more
Show less
No results found for your search.