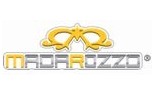 Madarozzo
Madarozzo manufactures guitar bags and is part of the Ritter group. It was founded by Martin Ritter in 2007 but started in 1996 in a small office in the north of England.
Madarozzo's concept is to combine an attractive design with the functionality, quality and protection of the instruments. The concept of Madarozzo has been accepted by thousands of guitarists from around the world.
Ritter, a North American company, has been preserving the brand and its creative work, adapting it to the latest trends and designing the future ones.
Read more
Show less
No results found for your search.