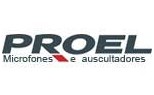 Proel
Among the equipment that Proel produces are amplifiers, loudspeakers and speakers, mixing consoles,  various stage equipment, processors, portable systems, in addition to traditional microphones and headphones. There is also the so-called commercial audio section, such as evacuation systems, PA systems and PA loudspeakers.
Note - the colors of the images presented on the website may change due to the brightness or settings of your monitor. Changes can also result from the user's own perception.

Read more
Show less
No results found for your search.